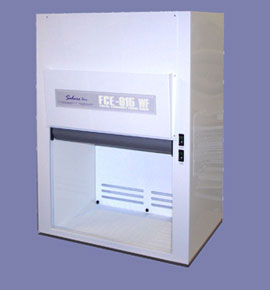 Click on Thumbnails to View Images

FCE - Hinged-Sash
Single Wall Total Exhaust Fume Hoods
Double Wall Total Exhaust Fume Hoods
Total Exhaust Fume Hood w/ Integral Fan
Free Standing Total Exhaust Fume Hoods
FCE-915 WF
3-Foot Wide, Double Wall, Acid Resistant Polypropylene Total-Exhaust Fume Hood

Constructed from all white stress relieved, acid resistant, non-corrosive polypropylene; all heat seam welded construction and tested.
Specific material selection for use with harsh corrosive acids and trace metal analogy.
Counter-weighted, clear (Lexan) front sash, vertically gliding, fitted with sash stops.
Sash working height is 16 inches of opening and stops may be by-passed when needed.
Incorporates a rear baffle and internal ceiling panel to promote horizontal air flow.
Provided is an upper front by-pass grille for constant air volume.
Supplied with a 24 watt fluorescent light fixture in an all-polypropylene compartment, all welded with a translucent polypropylene welded lens.
A sealed light switch/circuit breaker operates the light and is located above the by-pass grille.
A 6-inch diameter top-located fan exhaust allows for customer connection.
Included is an all polypropylene exhaust fan sized appropriately for this unit.
Configured for 120 VAC, 60 Hz or 220 VAC 50 Hz electrical connection (preference requested.)
Outside dimensions: 36 inches wide x 24 inches deep x 48 inches high.
Inside Dimensions: 29 inches wide x 19.25 inches deep with a 22.5 inch high opening and a 32 inch high ceiling.
Shipped assembled, fully tested and ready to use.

Plastec P20-4/1/60 Exhaust Fan

1/3 HP
1725 RPM
Single Phase or Three Phase 50/60Hz
6.3/6.62 inlet/outlet

Other size fume hoods with built-in fans can be made available upon request.