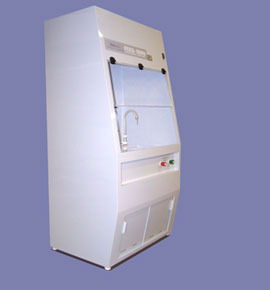 Click on Thumbnails to View Images

FCE - Hinged-Sash
Single Wall Total Exhaust Fume Hoods
Double Wall Total Exhaust Fume Hoods
Total Exhaust Fume Hood w/ Integral Fan
Free Standing Total Exhaust Fume Hoods
FCES Free Standing Acid Resistant, Polypropylene Total-Exhaust Fume Hood

Constructed from all white stress relieved, acid resistant, non-corrosive polypropylene. All heat seam welded construction and tested.
Specific material selection for use with harsh corrosive acids and trace metal analogy.
System includes ergonomic-sloping front design for easy access & cleaning.
The work top is constructed from Ĺ-inch thick polypropylene and is located 35 inches off the floor.
Below the work top is room to allow for storage space. This storage space is accessed via sliding doors in front and internally removable panels in the rear.
A 14-inch hinged heavy duty clear acrylic front sash prevents accidental splash into the operatorís face. The sash includes all plastic hardware with radius edges. A 14 inch high access opening gives the operator ample working entry. Fully opens to 28 inches.
Incorporates a rear baffle and internal ceiling panel to promote horizontal air flow.
A valve panel has been incorporated for mounting of remote valves and services when required and is located just below the spill containment lip.
The storage cabinet is vented to the main plenum which is located in the rear of the station and allows for air passage from the main work area.
Supplied with a fluorescent light fixture in an all-polypropylene compartment, all welded with a translucent polypropylene lens with all plastic hardware.
A sealed light switch/circuit breaker operates the light and is located above the hinged sash.
10-inch diameter, top-located exhaust collar(s) allows for customer connection.
Located on the top, is a junction box to allow for electrical connection.
Configured for 120 VAC, 60 Hz or 230 VAC, 50 Hz electrical access (preference requested).
Shipped assembled, fully tested and ready to use.