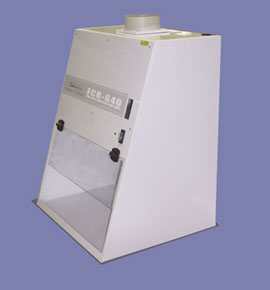 Click on Thumbnails to View Images

FCR - Hinged Sash
FCR - SERIES ALL POLYPROPYLENE DUCTLESS FUME HOODS
PROCESSING CAPABILITY WITH YOUR DUCTLESS FUME HOOD
Portable Fume Extractor
GI Series
FCR-640 Ductless Counter Top Fume Hood

Standard features include:

Constructed from all white stress-relieved, acid-resistant, non-corrosive polypropylene, all heat seam welded and tested.
Includes a 1-inch front lip for spill containment.
Supplied with a heavy duty clear acrylic hinged front sash with plastic hinges.
Incorporates a brushless forward curved single inlet blower for optimal performance.
One booted light/fan switch with integral circuit breaker.
Low air flow alarm indicator for unsafe conditions.
Back-baffle for horizontal air flow across the work surface.
A fluorescent light fixture.
Safe/easy-change filter housing.
Accommodates a Size "A" main filter.
Supplied with one (1) Size "A" electrostatic FILTRETE particle pre-filter.
Configured for 120VAC, 60Hz -or- 230VAC, 50Hz (preference requested).
Supplied with a 6-inch exhaust collar for ducting when required.
Internal work space dimensions: 25.2 inches wide x 23.4 inches deep x 17.7 inches high
External dimensions: 26.4 inches wide x 23.6 inches deep x 35.5 inches high
Shipped assembled, fully tested and ready to use.